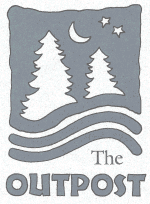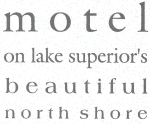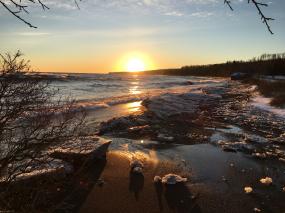 Outpost Motel Beach - Lake Superior
The Fish House across the road from The Outpost.
VISIT OUR FACEBOOK PAGE FOR MORE INFO, CURRENT HAPPENINGS, AND PICTURES!
Outpost Motel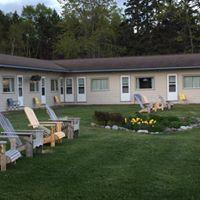 Outpost Motel overlooking Lake Superior

The Outpost Motel welcomes you to Lake Superior's beautiful North Shore!
Located between Lake Superior and the Superior National Forest, just eight miles from Grand Marais, The Outpost Motel is ideally located to be your home base while you explore the natural beauty, the wildlife, the rich heritage, and the local amenities that make this area unique.

The Outpost Motel offers cabin like rooms with great views of the lake from the large picture windows. Choose from our cozy queen bedrooms, our fully equipped one and two bedroom suites with kitchenettes, or our bright loft apartment.

It's your ideal destination for adventure on Lake Superior's beautiful North Shore! Out your front door is an amazing view of the lake and a great rock filled beach on Lake Superior. Out your back door you will find hiking trails into the Superior National Forest. Hike, fish, canoe, bike, dog-sled, rock-hunt, kayak, XC ski, snowshoe, shop, dine and browse the art galleries in Grand Marais... All just a few minutes from The Outpost!

If you are looking to kick back and relax, The Outpost is your place as well. We are located just outside of town which allows you to relax and enjoy the peace and quiet of the lake, the creek that winds through the property, the sunrise and sunset, and the deer and other animals that make the forest behind The Outpost their home.

Enjoy downtown Grand Marais and the State Parks and scenic overlooks located near The Outpost, and then come home to wind down for the night under the stars. The Outpost is your ideal destination for adventure—and relaxation!
MINIMUM STAY POLICY:

Sometimes you want to stay, but you are not looking for two nights. We understand that, and we hope our policy on this will accommodate your needs.

We do NOT have a minimum stay on our Queen Bedrooms, our Two Queen Bedroom, or our Two Single Bed Room.

We do, however, require a two night minimum stay on our rooms with kitchens including our One Bedroom Kitchenette Suite, our Two Bedroom/Two Bath Kitchenette Suite, and our Loft Apartment.